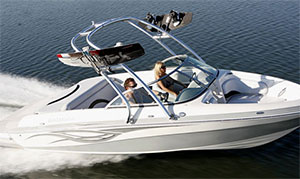 Surround Sound Outdoors
WET Series amplifiers from MTX Audio are designed to deliver all the power your system needs whether they are being used on a boat or off-road vehcile.
The WET500.1 is a mono block subwoofer amplifier with an incredibly small chassis. This amp is capable of producing up to 500W RMS and features 2Ω stability, making it the perfect choice to run two of the WET series subwoofers.