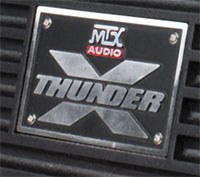 Whether you are adding a car subwoofer to get more hard hitting bass, or just looking to improve your current tunes, a car amplifier is the key to a better sounding system.
What Are the Benefits of an Amplifier?
An amplifier allows you to increase the volume of installed speakers without sacrificing clarity. Your car's radio has a small built in amplifier that does not produce a lot of power. Better speakers require more power to run efficiently and an amplifier provides that power.
While most people think power is only needed for volume, excess power is also needed to accurately recreate fast transients such as a cymbal crash or other dynamic change in sound output. Without enough amplifier power, the signal is clipped resulting in distortion.
Read more at Why Add a Car Audio Amplifier? and Two Common Car Amplifier Power Mistakes.
How Do I Choose an Amplifier?
Choosing an amplifier can seem like an overwhelming process with so many choices but answering a few questions can help you make the right selection quickly and easily.
Are you going to connect a subwoofer or speakers to the amplifier? If you are going to connect a subwoofer(s) to the amplifier you are going to want to use a single channel, mono block, amplifier to take advantage of its better efficiency. If you are going to be connecting full range speakers you are better off selecting a 2 or 4 channel model as they use class A/B design which delivers the best sound quality. If want to connect subwoofer(s) and speakers to the same amplifier then you want a 5-channel amplifier.
What is the RMS power of the speaker or subwoofer(s) you are connecting and what is their impedance? Select an amplifier that most closely matches the RMS power rating of your speakers or subwoofers at the same impedance to ensure they will work. For example, if you have coaxial speakers that are rated at 60-watts RMS and have a 4Ω voice coil, you will want an amplifier that outputs close to 60-watts RMS at 4Ω. This information is available in the specifications tab of each part.
Use this information to help you pick the right amplifier for you and if you need help call us and we will happily give you a recommendation for your application.
MTX Car Amplifier Series Overview
XTHUNDER Series - Designed with one goal: provide high power to your high performance subwoofers and high end speakers.
THUNDER Series - Deliver high power in a small chassis allowing them to power most speakers and subwoofers where amplifier mounting space is limited.
Marine & Powersports - Designed to operate in environments where water, dust, and high humidity are prevalent. Offer all the benefits of a standard amplifier with extra protection to endure the environment.
Limited Supply - Popular car amplifiers no longer in production offering an excellent combination of power and performance with the features and price to match.
Car Audio Amplifier Series
---
Big power to drive high-end speakers and subwoofers
Raw Power Design
Delivers excess power for the largest of subs.
Extreme Control
Flexible and customized controls for the prefect audio experience.
MTX Reliability
Forty years of audio experience packed into this high-powered amplifier family.
---
The Look, the Feel and the Power...
Exceptional Thermal Design
Stays cool under heavy use.
Low Distortion
Serious MTX hard-hitting bass and crystal clear high notes.
MTX Reliability
Forty years of audio experience packed into this amplifier family.
---
Rugged, weathertight and plenty of pure power
Plenty Of Power
Lots of wattage to power multiple speakers or subwoofers.
Corrosion Resistant
Built with resistant mterials to prevent corrosion problems.
Rugged and Weathertight
Amps built to last outdoors even with washdowns.
---
Economical Amps With Slamming Power
Traditional Power
For old school hard-hitting amplifier fans.
Economical Design
Coustic engineers get the most for the least.
Most Watts Per Buck
Hard hitting volume and SPL at a good price.
---
Great deals on amplifiers while stock lasts. Take advantage before these deals are gone.