Sub + Amp + Box + Wire Subwoofer Packages
Everything you need to get rocking!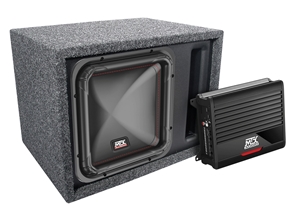 S65BOX500
Single 12" Car Subwoofer Kit
Built for SPL
S65 Series square subwoofers are built to deliver exceptional SPL and the most bass for your buck.
The S6512-44 is a 12" dual voice coil, 400 watt, 4 ohm square car audio subwoofer built on the MTX tradition of getting more than expected.
MTX THUNDER500.1 is designed to work with an assortment of subwoofers and is capable of delivering up to 1000 watts peak power (500 watts RMS) in an incredibly small package.
This monster amp features a high efficiency class D topology. This type of circuit is preferred for driving subwoofers due to its ability to minimize power loss to heat when you rock all night long.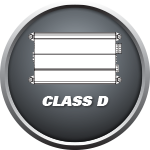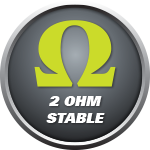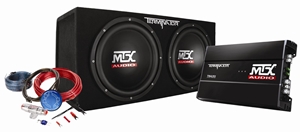 TNP212D2KIT
The Party Pack Complete
The MTX Terminator TNP212D2 is an excellent all-in-one solution for anyone looking to add bass to their vehicle's audio system. The Party Pack is 400 Watts and two heavy twelves of a rocking concert-in-a-box!
Everything you need for a great bass system is in this package including the amp wiring kit and speaker wire you need to get it connected to your system.
Loaded Enclosure With Amp
This package includes the TNP212D2, a dual 12" sealed subwoofer enclosure and the included TNA251, a single channel amplifier specifically designed to work with the enclosure. For over 40 years MTX Audio has been making car audio electronics designed to deliver more than expected and that is exactly what this package offers.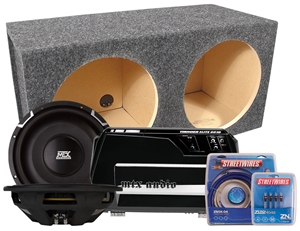 TE601FPRPKG
800W Thunder Elite Subwoofer Package
This bass package is an excellent choice for the heavy audio enthusiast that wants to use top of the line equipment.
Elite MTX Amplifier
The TE601D incorporates a number of patented technologies to deliver an exceptional listening experience. Integrated technologies include patented Adaptive Class D design that reduces interference making for a better listening experience, Intelligent Surface Mount Technology that resists vibrations and ensures longevity, and Smart Engage auto turn on circuitry that enable the amplifier to be easily connected to a factory radio.
Awesome FPR Subs
The FPR Series subwoofers utilize a patented shallow mount design that enables them to play as low as a full size subwoofer in a much smaller space, 3.325" deep. These subwoofers can move an incredible amount of air and play into the low 20Hz range ensuring you hear all of the lowest bass notes in your music.