Flat Piston Shallow Mount Subwoofers
True Subwoofer Performance with Less Than 3.5" Mounting Depth
FPR Series shallow mount subwoofers offer both the convenience of a shallow mount design with the awesome low frequency bass output that MTX has built its reputation on over our 40 years in the car audio industry.
The FPR series subwoofers are only 3.325" deep, are optimized for sealed enclosures, and require as little as 0.6 cu ft of air space to function. Unlike other shallow mount subwoofers, the FPR series delivers real bass, as low as 22Hz, so you can be confident knowing you are buying a high quality subwoofer rather than what is offered by "the other guys".
FPR Series Technologies:
Patented Flat Piston Design Allows for Easy Mounting in the Smallest Spaces
True Subwoofer Low Frequency Performance
Spider Plateau Venting Mechanical Cooling Process Targets Cool Air at the Voice Coil Reducing Distortion
Patented Design Enables Extended Xmax for Increased Volume Displacement and SPL Output
Ideal for Use in Trucks, Jeeps, Coupes, Convertibles, and Any Vehicle with Limited Space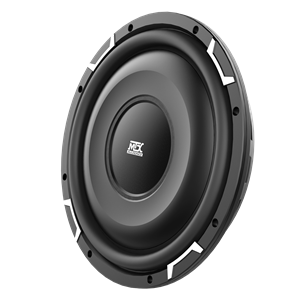 Many vehicles today have limited space...
Having a large Car Audio Subwoofer enclosure to get the bass you want may not fit your ride. Limited space has traditionally meant limited subwoofer options for those who want loud, clear music. Not anymore!
The FPR12-02 Shallow Sub
The FPR12-02 is a 12 inch, 400 watt RMS, 2 Ohm, shallow mount Car Audio Subwoofer that rivals any full-size ten inch on the market. This shallow sub provides real MTX THUNDER© !
$249.95
$199.95
Free shipping