MARINE GRADE AMPLIFICATION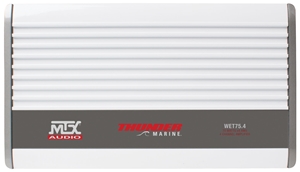 WET75.4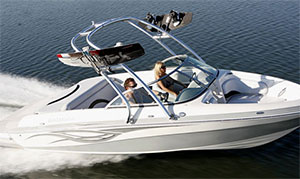 Super Amp
WET Series amplifiers from MTX Audio are designed to deliver all the power your system needs whether they are being used on a boat, bike or off-road vehcile.
The WET75.4 is a 4-channel full range amplifier. The WET75.4 is capable of producing up to 400W total RMS power, 100 watts per channel. The unit features a a class A/B circuit design that delivers exceptional sound quality and small chassis with an extruded heat sink that effectively dissipates heat ensuring long play times.
All-Weather Power
MTX marine audio amplifiers are the key component in your boat's audio system.

No matter what kind of boat you have, you need to hear your music over the sound of the engine or waves and a MTX marine amplifier is the best way to ensure your speakers and subwoofers have they power they need to deliver the sound you want.

Fully weatherized these amplifiers will provide season after season of reliability whether your boat is in salt or fresh water.