Marine Audio describes audio components that are utilized in environmental conditions where water, humidity, or element exposure is prevelant.
These tough MTX Audio products work great mounted in boats and pleasure craft as well as off road vehicles and toy haulers.
What sets MTX marine products apart from standard mobile audio products is their construction. All MTX marine audio products are designed to be extremely weather resistant and durable in outdoor conditions. This enables you to not only get the high performance and awesome sound you associate with MTX, but you also get the MTX durable design that allows you to enjoy your music in whatever vehicle you choose for rockin'.
MTX Marine Subwoofers
---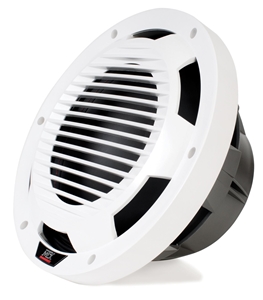 WET104-W
The Marine 10 Sub
Prepare To Rock
This sub is a second generation marine subwoofer from the number one name in marine audio, MTX.
The WET104-W is a 10" single 4Ω subwoofer that can handle up to 250W RMS power. This subwoofer is designed for any environment.
This subwoofer is designed for infinite baffle usage, meaning you do not have to build an enclosure for it if you are using it in a boat. The subwoofer will take advantage of the mounting location and use the boat's structure itself as the enclosure.