These tough MTX Audio products work great mounted in boats and pleasure craft as well as motorcycles, off-road vehicles, and toy haulers.
What sets these MTX products apart from standard mobile audio products is their construction. These amplifiers are designed to be extremely weather resistant and durable in outdoor conditions. This enables you to not only get the high performance and awesome sound you associate with MTX, but you also get the MTX durable design that allows you to enjoy your music in whatever vehicle you choose for wherever life takes you.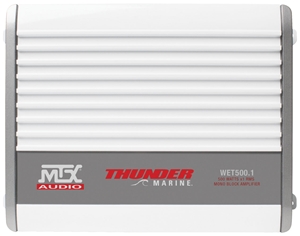 Make Your Own Waves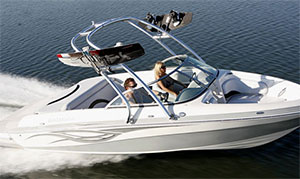 Surround Sound Outdoors
WET Series amplifiers from MTX Audio are designed to deliver all the power your system needs whether they are being used on a boat or off-road vehcile.
The WET500.1 is a mono block subwoofer amplifier with an incredibly small chassis. This amp is capable of producing up to 500W RMS and features 2 ohm stability, making it the perfect choice to run two of the WET series subwoofers.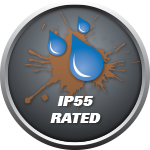 $269.95
$249.95
Free shipping