For over 20 years MTX has been manufacturing vehicle specific custom enclosures that are designed to be installed in space that would otherwise go unused in your vehicle. All models are made in our manufacturing facility in Monroe, WI by our highly technical trained staff to ensure that your experience is more than you expected.

All Thunderform models are manufactured using highly technical rotomold or fiberglass processes to create lightweight, durable enclosures that are available in two formats: amplified or loaded.


Amplified models include an integrated high efficiency amplifier and custom subwoofer that deliver an exceptional performance with easy installation. Mounting hardware and amplifier kits are included in each model to make installation easy.
Loaded models include a custom 4Ω, 200W RMS subwoofer that can be used with existing amplifiers or with upgraded amplifiers.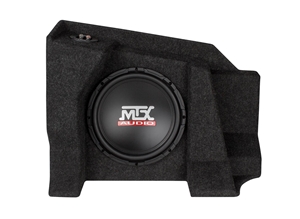 C1500EX-07L
Fits Chevrolet Silverado 1500/2500 Double Cab 2007-2015
Loaded Thunderform with a single, hard hitting ten inch Terminator Subwoofer rated at 250 watts RMS @ 4-Ohms.
Fits Chevrolet Silverado and GMC Sierra 1500/2500 Double Cab 2007-2015.