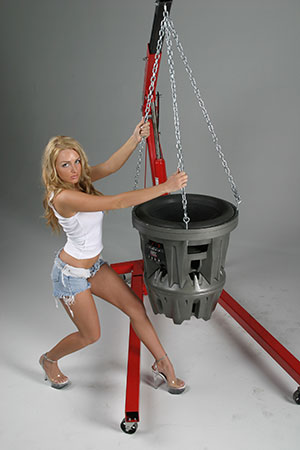 The MTX Jackhammer
(22 inch round model shown...
winner receives 24 inch square model.
We just like the picture :)
Enter MTX Audio's "It's Good To Be King"
And win The World's Largest Production Subwoofer... The Jackhammer!
Simply place a registered order online at mtx.com between 12:01AM EDT July 11th, 2014, and 11:59PM EDT September 30th, 2014. Each time you purchase you increase your chances of winning.
Or Signup for the MTX Newsletter below in the same time period and get our monthly tips and specials! (Only one newsletter signup per person is contest eleigible)
One Grand Prize Winner will receive a TS9924-22 24" JackHammer Subwoofer, manufactured by MTX Audio, selling for $9,999.95!
Click here for official "It's Good To Be King" Contest rules.
Sign up for our free MTX Newsletter below, and you may be the proud owner of a 400 pound Jackhammer Subwoofer!
Get how-to's, tips, specials, videos, announcements and more: