MTX Car Subwoofer Package Selection Guide
---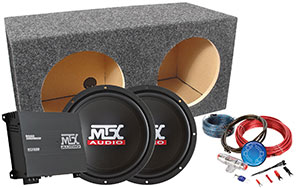 Complete Subwoofer Bass System =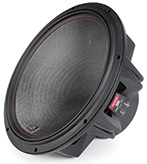 Subwoofers +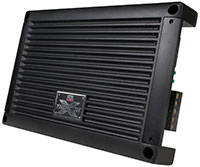 Amplifier +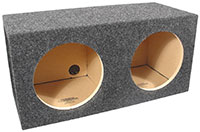 Enclosure +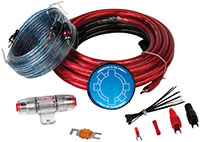 Wiring
Why a Subwoofer System needs these components...
Bass System = Subwoofer + Amplifier + Enclosure + Wiring
Sub

The subwoofer is the heart of a great bass speaker system. Many packages offer two for ground shaking THUNDER.
Very generally speaking, larger subwoofers (and more subwoofers) rock louder and longer with less heat distortion at high volume. And larger subs can generally reproduce lower bass frequencies more accurately.

Amp

Subwoofers require much more power than stock systems provide, so most MTX Subwoofer Packages provide a matched amplifier, mounted either inside or outside the enclosure.

Box

Subwoofers are designed to perform best when mounted in a particular volume range of enclosure. You need to buy, or build, a box that matches your subs.

Wiring

Speaker Wire: Amplifier output to the subwoofers.
Amp Kit: Power from the battery to the amp
Interconnects: Radio/deck signal to the sub amplifier
QUICK PICK: Our Most Popular Subwoofer Packages...
What are Amplified, Loaded and Unloaded Car Subwoofer Systems?
Available MTX Subwoofer Package Combinations
Sub + Amp + Box + Wire
Sub + Amp + Wire
Sub + Amp + Box
Built-In Amp Bass Packages
Sub + Box
Thunderforms - Vehicle Specific Custom Subwoofer Enclosures (listed separately)