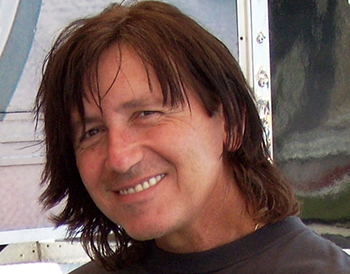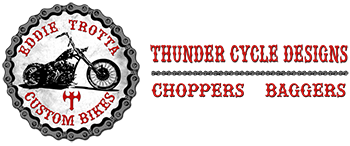 MTX Audio is proud to know and work with legendary bike builder, Eddie Trotta of Eddie Trotta's Thunder Cycle Design in Ft. Lauderdale, Florida.
Calling Eddie Trotta A Custom Bike Builder Is Like Saying Michelangelo Just Painted Ceilings. A Veritable Renaissance Man, Eddie's Interests And Talents Range Far And Wide. An Accomplished Musician, Eddie Studied Virtuoso Piano At The Berklee College Of Music. Active In His Local Community As Well As The Motorcycling Community, He Supports The Boys And Girls Clubs Of Broward County, Florida And Has Served On The Board For The V-Twin Bikers Ball. As Throttle Man For His Own Rampage Offshore Race Team, Eddie Has Won Several Aquatic World Championships, Including The Prestigious Bacardi Cup! He's Also Horsed Around With Thoroughbreds For Several Years And Has Won Over 100 Races. Eddie Has Always Had An Eye For Beauty And Speed, Which Explains His Avid Interest In Collecting Exotic Cars As Well. And Oh Yeah, Some Where In There He Also Found Time To Design And Build Custom Motorcycles For Over 30 Years, Creating The Thunder Cycle Design Legacy!
With A Background Like This, Its No Wonder That When He Finally Focused Full Time On Custom Bikes, In Less Than 10 Years Eddie Trotta Became One Of The Planet's Pre-Eminent Custom Motorcycle Designers. His Personal Touch And Involvement In Every Machine Thunder Cycle Creates Has Awarded Him A Long List Of Honors. In 2001 Through 2003 He Was One Of Only Four Camel Roadhouse Builders; In 2004 Eddie Joined The Hard Rock Roadhouse; And He Was The V-Twin Magazine Bike Builder Of The Year, Unquestionably One Of The Top Honors In The Custom Bike World.
Also In 2004, Eddie Was Invited By The Discovery Channel To Star In Their New Series 'The Great Biker Build Off', And He Has Also Appeared On Many Other Television Shows. Trotta And His Team Were Awarded The Biker Picaso Award At The Discovery Ultimate Chop Awards Show. The Thunder Cycle Enterprise Is Further Distinguished By Its Favored Status Amongst Celebrities, Athletes, Influential Well-To-Do Clients, And Other Connoisseurs Of Great Design From All Walks Of Life.
Take A Good Look At The Machines Of Eddie Trotta's Thunder Cycle Design And You Will See The Attention To Detail, The Imagination, Craftsmanship, And The Perfection That Places Eddie's Custom Bikes In A Class All Of Their Own!
Sturgis Motorcycle Hall of Fame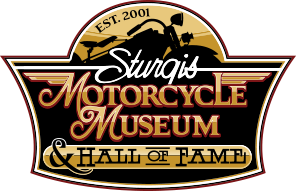 The Sturgis Motorcycle Hall of Fame honors the men and women who have dedicated much of their lives to improving, promoting, and advancing our great sport and lifestyle. John Shope is inducted into the 2015 Hall of Fame class honoring individuals, organizations, and businesses who have made a positive and significant impact on motorcycling.
"Since the late 1980s, Eddie Trotta has been building custom choppers and baggers from his shop in Ft. Lauderdale, Florida. Thunder Cycle Designs focuses on imagination, craftsmanship and attention to detail in every build. Eddie spent two seasons as a builder on V-Twin TV, and has also starred in multiple Biker Build-Off shows on the Discovery Channel in addition to being featured on numerous magazine covers over the last 10 years. He is supportive of numerous charities not the least of which is the Boys and Girls Clubs in Broward County. He has donated three motorcycles to be auctioned at the Bikers Ball in Daytona in support of that organization alone. Besides building bikes, Eddie also has spent time as a musician, raced offshore powerboats and owned thoroughbred race horses, fulfilling his need for speed."