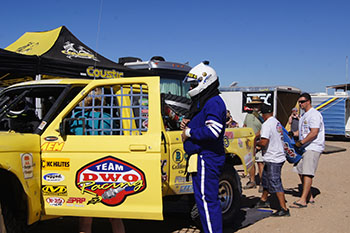 Team DWO Racing Ford Ranger
Mark Schleipfer, Owner/Driver
& MTX Manager

Todd Douglas, Owner/Driver

---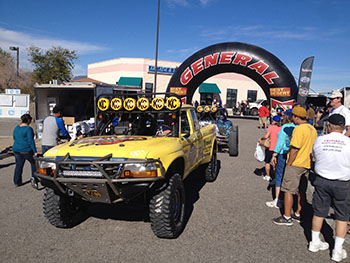 February 8, 2015: Mark at the Blue Water Parker 425...
After several weeks and many long hours the Team DWO Racing Ford Ranger was ready to do battle at the 2015 Best in the Desert Blue Water Parker 425 on Feb 6th thru the 8th in Parker AZ. Todd Douglas, Mark Acuna Sr, Mark Schleipfer and Steve Boozer were all set to tackle this race course. Each lap was close to 150 miles and our class was set to do 2 laps in the 1800 Sportsman class.
Off the starting line and on the first lap were Todd Douglas driving and Mark Acuna Sr. navigating the #1871 Ford Ranger. They had a great lap with no issues, the truck was running great and Todd was making good time getting the truck into the 2nd place position in our class. There was a little rubbing when the McMillians made a pass but all was good. It was a rough course and all the hard work paid off as the truck did its job.
On the second lap Mark Schleipfer was driving and Steve Boozer was navigating. We had a good lap going until RM109 when the rear bearing on our alternator failed and it locked up and caught on fire. After pulling off the race course, putting the fire out, assessing the damage we quickly had, thanks to our pit crew and BITD, a new alternator was on its way to us and we started to remove the old one. We were running in 2nd place at that time. While we were down the 3rd place truck #1818 had caught up and passed us moving them to 2nd. Shortly after that our new alternator showed up we got on our way. At RM126 we got word that we were 1 mile behind the 2nd place truck #1818 and a race broke out. Approximately 10 miles from the finish line we were able to catch the 2nd place truck bumping him to 3rd and we crossed the finish line as the 2nd place winner in our class.
This was our first race of the 2015 season and Team DWO Racing is off to a great start. The truck looked awesome with all the sponsor logos and at the last minute we were able to get team crew shirts printed. We had over 30+ friends and family that volunteered their time to help support us at this race and we thank each and every one of them for all of their help.
Team DWO Racing would like to thank all of our sponsors who without the support with some of the BEST products in the industry, we would not be able to follow our dream to race, so big THANK YOU to;
Desert West Outdoors, KC HiLites, MTX Audio, Rugged Radios, Mickey Thompson Tires, TechFlex, PRP Seats, PlayCraft Trailers, AEM Brute Force, Circle B, TireGate, Hi-Lift Jacks, Whistler & Burger Shoppe
Thank You for all your support.
Desert West Outdoors/Off Road Racing Team
3329 N. 35th Ave
Phoenix, AZ 85017
Mark (Sarge) Schleipfer/Todd Douglas - Owner/Driver
teamdworacing@aol.com
---