RFL 15" SPL Competition Subwoofer - 2001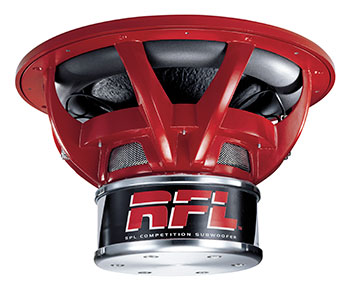 18+ Lb of Magnet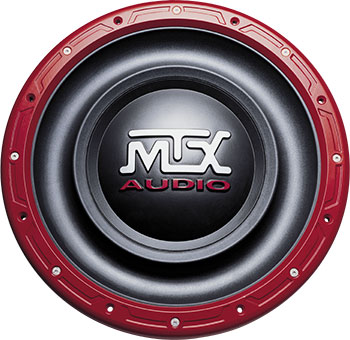 RFL Competition Subwoofer
A fine line between Genius & Insanity
The RFL152 is designed for just one purpose. SPL competition - the most extreme car audio sport on the planet. There's only one way to win. You've got to be the biggest and the baddest. The one with the most LOUD. The RFL152 is without a doubt the rudest, most intense, subwoofer ever invented. There's nothing elegant about it. It's aggressive, obnoxious and totally over the top. At 15" and 56 pounds with 4.35" of total, peak-to-peak excursion, it's a die-cast monstrosity of pure ear-blisterin', meter-peggin' aggression.
The genius
To hit the numbers, you've got to move lots of air. So, take all of the most intense parts ever crafted for a subwoofer and bolt them all together - yes bolt them together 'cause glue can't handle 4.35" of total excursion at 4000 watts. The inverted roll surround is constructed from multi-layer polyester. Its two 3-layer spiders are separated by a die-cast aluminum mounting ring. All this to try to keep things linear and somewhat under control (it's about LOUD, not sound quality).
RFL Subwoofer The Insanity
4000 watts is as insane as it gets. 4.35 inches of total excursion is just nuts. 56 pounds for a single subwoofer is stark raving mad. What else can we say. You've seen what happens to ordinary subs at SPL competitions. RFL Replacement KitThey explode, and they are done for the day. With RFL, if you can blow it up, you can rebuild it. RFL152 comes with a replacement cone and voice coil assembly so you can rebuild it on the spot, at the show. Kind of like a top fueler - you can rebuild her between rounds. Designed, tested and built to handle an extreme 4000 watts of mind-numbing power, this sucker ain't cheap. But, the good stuff never is.
RFL 152 SPL Competition Subwoofer Specifications
Model
Description
Imped.

Frequency
Response
Power
Handling
(RMS/Total)
Sensitivity

Voice Coil

Magnet
Weight

Mounting
Depth
RFL152
15" SPL Subwoofer
2 @ 2
20 Hz-
150 Hz
2000/4000
93.1
2 @ 3"
298oz
9.375"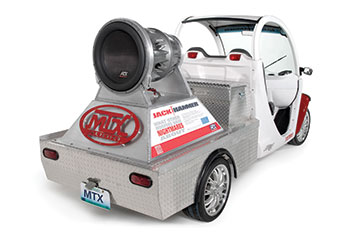 The MTX Jackhammer Golf Cart
The Jackhammer - CES 2005
The World's largest production car subwoofer
"The JackHammer is no ordinary woofer. The reaction is usually the same when people see this 370 pound bass machine for the first time. Mad Mike of West Coast Customs exclaimed, "this is the biggest woofer I've seen in my life! MTX baby! The JackHammer rocks!" Even Pimp My Ride host Xzibit expressed that he wanted six of the enormous subwoofers for his house."
The Jackhammer is the largest production car subwoofer manufactured in the world and has held that record since its introduction at CES in January of 2005. It wieghs around 400 pounds and comes in an awesome round 22 inch diameter cone version or the amazing, square 24 inch model. Need we say more?
See the T9922-22 22" Round MTX Jackhammer Car Subwoofer
Thunder9500 Subwoofer - CES 2004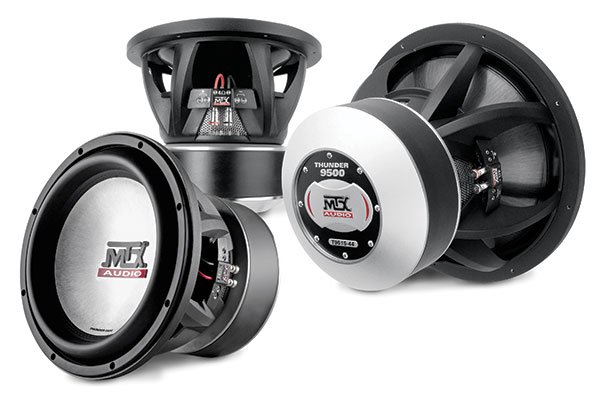 Thunder9500 Subwoofers
Weighing in at over 50lbs each, the T9500 series subwoofers, available in 10", 12", and 15" models, are the most physically menacing woofers MTX has ever created. All are capable of handling between 750 and 1000 watts RMS; performance thanks in part to three gigantic, high-grade magnets and a 4" black anodized aluminum former with a voice coil made from 220° aluminum flat wound ribbon wire. The combination makes for the kind of conduction that would have split Ben Franklin in two.
Thunder subwoofers are known for being cool under pressure. The MTX design and engineering team took its lauded cooling system, highlighted by Spider Plateau Venting technology, a step further by adding a high-grade, 60/63 extruded aluminum heatsink. The heatsink covers the entire windwidth of the voicecoil pulling heat directly off it and ensuring the woofer plays louder, longer.
With any subwoofer, it's necessary that the tinsel leads be long enough to travel with the cone assembly during both excursion and digression of the cone without the tinsel lead impeding its travel. However, in the case of long-excursion drivers like the T9500 series, these tinsel leads have to be extra long. By holding the tinsels between two layers of polycotton spider (click the diagram to the left for a larger image), the MTX design team eliminated the risk of short circuits caused by tinsel leads contacting the aluminum basket or the positive and negative tinsel contacting each other.
When it comes to separating the ordinary from the truly innovative, the devil is in the details. The MTX engineering team put the emphasis on making the T9500 installer-friendly.
Thunder225HO Amplifier - ~ 1997
Low impedance, High-Output amplifier.
Individual gain controls for left and right.
2 sets of RCA connectors.
RMS Power measured at 12.5 Volts DC:
25 Watts x 2 into a 4 Ohm load with less than 0.05% Thd+N
50 Watts x 2 into a 2 Ohm load with less than 0.1% Thd+N
100 Watts x 2 into a 1 Ohm load with less than 0.3% Thd+N
200 Watts x 2 into a 1/2 Ohm load with less than 0.5% Thd+N
400 Watts bridged into a 1 Ohm load with less than 0.5% Thd+N
Blue Thunder Legend Subwoofers
These subwoofers feature the MTX Asymmetrical Linear Drive Technology - a combination of a flat, progressive spider with an extended pole piece. This technology contributes to the high power handling, yet low distortion characteristics of the Blue Thunder Subwoofers.
Available in 8", 10", and 12" sizes with 4, 8, and 12 ohm (no 12 ohm in the 8"). This means that you can choose a size and impedance combination that makes the most efficient use of your amplifier power.
The Chassis - the frame of the Blue Thunder Legend Subwoofer is a "folded-window" design. Besides looking very elegant, it is a more stable construction.
The Cone/Dustcap - the inverted dustcap is integrated seamlessly with the tinted gray cone, for a sleek, high-tech appearance.
The Gasket and Surround - are one piece, with a fillet-edge, pressure-formed out of EPDM. this is a reliability boost, since there's no more adhesive, and the EPDM resists UV rays.
The Voice Coil - It's a four-layer, long winding length (the more copper in the voice coil, the better thermal power handling, for better bass).
The Magnet - is oversized, which contributes to driver control...(for superior power handling)
Blue Thunder PRO50X2 Amplifier
Blue Thunder Amplifiers
PRO50X2 Amplifier - 50 watts RMS x 2 at 2ohms
PRO75X2 Amplifier - 75 watts RMS x 2 at 2ohms
PRO150X2 Amplifier - 150 watts RMS x 2 at 2ohms
PRO300X2 Amplifier - 300 watts RMS x 2 at 2ohms