Welcome to MTX A-BUS Multi-Room Audio. When combined with audio source equipment (receiver, CD player, etc.) and speakers, A-BUS creates a versatile whole-house audio delivery system that will fill your home with high-quality music for years to come.
A-BUS System Overview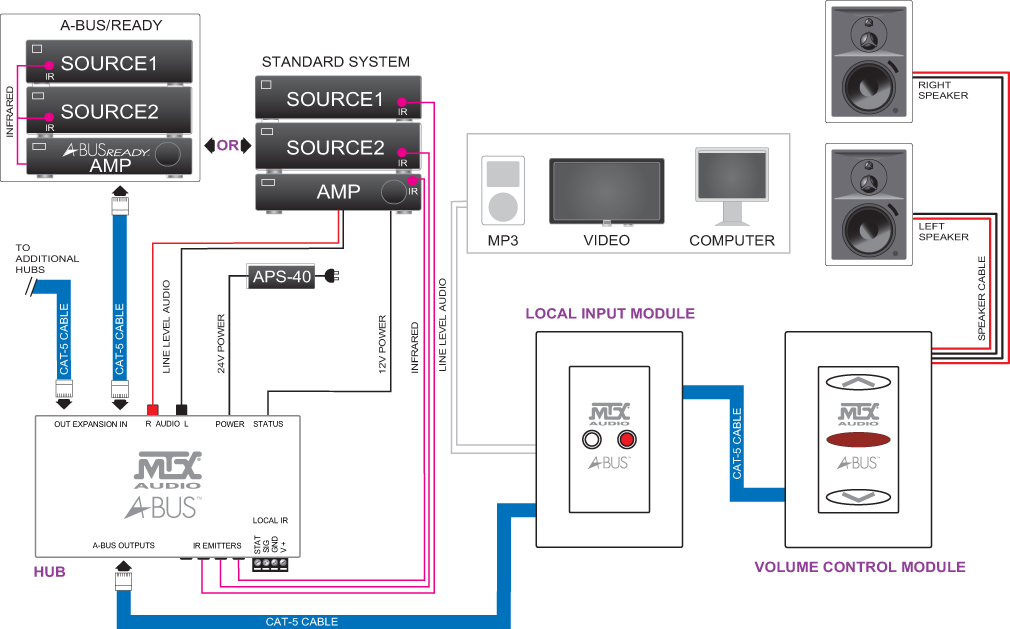 MTX A-HUB Audio Distribution System
The A-BUS hub is the core of the system, distributing audio signal, system power and status indication to A-BUS power modules installed in rooms throughout the home and sends IR commands from the power modules back to the source components. It is usually located near the main sound system (Amplifier/Receiver, CD, DVD, Tape, Cable, etc.). They typically have two or more zone outputs with expansions ports (IN/OUT) so multiple hubs can be connected to tailor the system to individual requirements.
Audio input from the main amplifier's tape output or second zone output.
4 Infrared (IR) outputs to remote controllable source components and the main ampli- fier (to allow for input selection). Dual emitters may be used.
Power supply for system power (supplied). (Should not to be connected to the ampli- fiers switched output.)
Status optional
Zone outputs to go to A-BUS volume control power modules.
Expansion ports- to add additional zones. (A-BUS - HUB1X4)
OUT: Connects to additional hubs to add more zones or rooms. (Each hub requires its own power supply)
IN: connects to the direct input of an A-BUS/READY amplifier or connects to an ABUS input selector.
Local infrared input (xantech™ compatible) to relay IR commands if the main system amplifier is concealed (single zone amplifiers only).
A-BUS Volume Control Power Modules (ABUS-VC2)
A-BUS volume control power modules are stereo amplifiers with level control that power a pair of speakers in each room. Only one category 5 cable is required between the hub and the power module. Speaker cable is run from the power module to the speakers except when the A-BUS power module is located on the speaker itself. Standard rotary A-BUS power modules do not include infrared repeating. IR-equipped modules relay 38KHz and 56 KHz codes to the source components for input track/channel selection, etc. They also include infrared talkback and status indication. An LED indicator indicates when the A-BUS system is on (See Power/Status below) and it flashes signifying an infrared command has been received. The volume level on touch-button A-BUS modules can also be operated by the ARC-40 remote control handset (supplied with ABUS-VC2). The IR repeater system is always active regardless of system status.
Audio, IR Data and Status Connections
A-BUS/READY amplifiers are equipped with an RJ-45 A-BUS output socket enabling direct connection to either a single A-BUS Volume Control power module for one extra zone or to an A-BUS hub for multiplezones. The A-BUS/READY outlet supplies audio, status and infrared data connection. Some A-BUS/READY amplifiers can power one power module independently while others require a separate power supply. The A-BUS/READY jack may also be connected to the Expansion Input of an A-BUS hub to enable multiple zones.
IMPORTANT: When purchasing a new amplifier or home theater receiver look for the A-BUS/READY logo on the front. That means a simple RJ-45 connection on the back immediately connects you to the whole-house system, as long as the house is wired for A-BUS.
Power/Status
There are several ways to activate an A-BUS system. When not in operation the A-BUS system is in standby mode. It is activated by:
Automatic Signal Sensing (Default): The Hub automatically detects when audio signal is present and activates the A-BUS system. 30 seconds after the audio signal ends the system returns to standby.
Main System Sensing (Preferred): A-BUS also activates automatically when the main sound system is switched on (including source components). A 12-volt 100-300 amp power pack should be plugged between the main amplifier's switched power outlet and the hub's Status input.
A-BUS/READY: The hub can be directly connected to an A-BUS/READY amplifier via the Expansion Input port. The A-BUS system automatically powers up when the A-BUS/READY amplifier is switched on. This may be done via remote control from any room. Note: The hub power supply is still required.
A-BUS Local Source Input Module (ABUS-LS1)
The LIM provides "local" input capability for sources such as TV sound, MP3 player, computer sound cards, etc. located in the zone. The LIM automatically switches to the local input when a local source is detected. 30-seconds after the local source ceases, the LIM automatically reverts to the main input source. The LIM is easy to install. Note- Care should be taken during pre-wire to run the category 5 cable from the hub to the power module via the LIM installation point if this facility is to be made available. This is often a forgotten requirement, e.g. In the case of local TV, the category 5 cable should be run past the room's aerial point.
A-BUS COMPATIBILITY
This product complies with the A-BUS format. The A-BUS format has been adopted by other manufacturers who make variety of products that can give your system added flexibility. When looking to expand and/or upgrade your home entertainment system, be sure to look for products that carry the A-BUS trademark.