Car Subwoofer System Selection Guide
Our Most Popular Subwoofer Packages...
Mount one of these rocking subs in the trunk of your car or the back of your SUV, and be rocking tomorrow.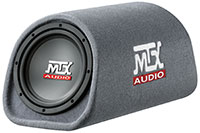 RT8PT
$179.95
See more...
RoadThunder Bass Tube
Serious bass from an easy-to-use, amplified subwoofer enclosure
Don't be fooled by the compact size of the RT8PT Tube, this amplified and vented bass tube is designed to deliver bass like only MTX can.
This low profile unit can be installed in virtually any vehicle without sacrificing space. The 8" subwoofer, integrated amplifier, and vented enclosure delivers bass you have to experience to believe.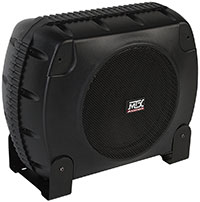 XTL110P
$199.95
See more...
Ready-To-Rock Subwoofer
Compact, easy to install powered car subwoofer for nearly any vehicle
The killer XTL110P amplified and enclosed 10 inch car subwoofer is the easiest way to add good bass to any car, boat, UTV, or other vehicle that gets you around.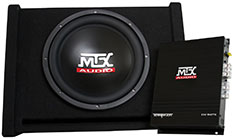 TNP112D
$179.95
See more...
Terminator Sub Pack
Single 12 Subwoofer Party Pack
The MTX Terminator TNP112D is an unbeatable choice as a first system for audio enthusiasts looking to add bass to their vehicle's stereo system. This single 12" vented enclosure and amplifier party pack is designed to be easy to install, use, and rock no matter what type of vehicle you have or music you love.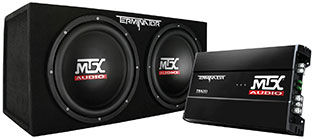 TNP212D
$249.95
See more...
Terminator Party Pack
This powerhouse amp and dual twelves package delivers kicking bass to any audio system
The MTX Terminator TNP212D2 is an excellent all-in-one solution for anyone looking to add bass to their vehicle's audio system. The Party Pack is 400 Watts and two heavy twelves of a rocking concert-in-a-box!
See more Subwoofer Packages...
Want a custom enclosure?
Thunderforms - Vehicle Specific Custom Subwoofer Enclosures
Car Audio Components
---