For over 40 years, MTX has engineered and created awesome car subwoofers for the world to enjoy. The MTX subwoofer family includes the outrageous RFL, the Thunder 9500, the Black Gold, the Blue Thunder and the Eliminator subwoofer series. Now welcome our new SuperWoofers... the 75 Series!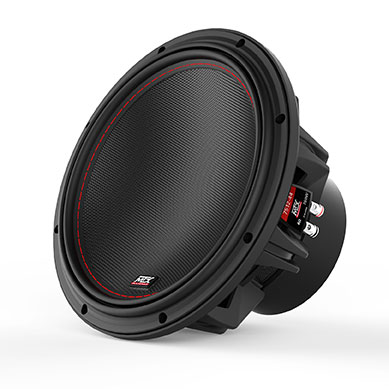 The MTX 75 Series Car Subwoofer
The 75 Series SuperWoofer is the next evolution in high performance car subwoofers from MTX Audio. This car subwoofer incorporates new technologies that simply outperform any competitor that steps up.
These car SuperWoofers live up to their name. We think you will be impressed. So much so that we offer you a 30 day guarantee. Send them back if you are not totally thrilled.
The SuperWoofer title comes from the one-two punch where the 75's knockout both the top SPL car subwoofer designs for loudness and the top SQ designs for sound quality, all from one very special subwoofer family. So the SuperWoofer is born combining SPL and SQ into these exclusive car subwoofer series.
Inverted Apex Surround
The SuperWoofer subs superior design starts with significant improvements in air movement with our Inverted Apex Surround. This special surround design maximizes SPL. The unique Inverted Apex surround uses an accordian technique to extend the usable cone area out closer to the edge of the subwoofer's dustcap, since the surround is a much narrower. This enlarged cone diameter maximizes the volume of air moved with each push.
The accordian design of the Inverted Apex also increases the Xmax (extension distance) and uses the latest high tech surround materials that offer extremely low mass while proviing bulletproof durability. Increased surface diameter multiplied by increased Xmax equals more SPL per cycle.
Linear Travel Stops Distortion
The SuperWoofer design uses a multi-layered set of features to ensure the voice coil and cone are guided perfectly across their travel so the movement precisely follows the original music with no bounce or other unwanted reverberations to keep sound quality excellent. Then we apply our proprietary technologies to ensure the surround extension is linear across the whole path, keeping distortion of the original signal extremely low which makes the subwoofer sound clean and crisp even under loud and continuous play.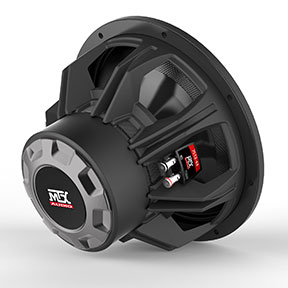 The 75 Series family is available in 15" and 12" models that feature either dual 4Ω or dual 2Ω voice coil configuration and are capable of handling up to 750W RMS power.
The 75 Series Technology includes:
Inverted Apex Surround Increases Surface Area and Xmax Resulting in the Most SPL Per Sub Diameter.
2-Layer Thermal Management to Ensure the Subwoofers Reliability Under Continuous Loud Play Without Distortion.

Spider Plateau Venting Mechanical Cooling Technology
Integrated T-Yoke Heatsink Dissipates Heat from the Voice Coil
High Efficiency Glass Fiber Cone
2.5" Voice Coil
Cast Aluminum Basket Reduce Resonance
8 AWG Compression Terminals Make Connections Easy
These SuperWoofers not only live up to their name but will far exceed your expectations. We guarantee it.
Related Articles