Five Tips For Choosing The Best Subwoofer Package
So you want a pre-assembled, complete subwoofer package for your car; something easy to choose and install?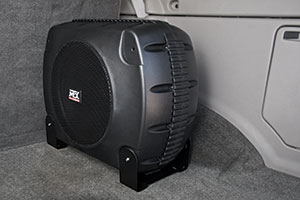 MTX XTL110P Complete Subwoofer Package
MTX Sub Packages range from the easiest to use, complete models that include amplifier and subwoofer in an enclosure ready to rock, all the way to individual components specifically chosen and matched by our expert audio engineers to guarantee the best performance.
Remember a subwoofer requires an enclosure to function, so if you want to add bass to your ride it is a must have and something you need to consider. Whether you want to put the subs in your trunk, cargo area, or behind your seat will determine what subwoofer you can use and what type of enclosure you will need. How do you choose the subwoofer package that is right for you?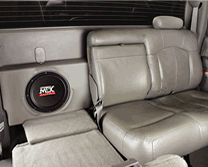 MTX Custom ThunderForm Subwoofer Package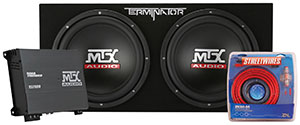 MTX Dual Terminator Loaded Subwoofer Package
1. Custom or prefabricated enclosure?
Custom ThunderForms are available from MTX that are molded to fit into specific vehicles. These units are designed to make use of unused space such as under a seat or in a molded cranny, so they do not cut into your storage space. ThunderForms are excellent enclosures that are custom designed for superior sound.
Prefabricated, non-custom unloaded enclosures are designed to fit a wide range of subwoofers, but they are bigger and will typically take up cargo space.
2. What size subwoofer is best: 10", 12", or 15" subwoofers?
A larger subwoofer has more cone area so it can move more air and will generally produce more sound pressure (SPL).
However, a smaller subwoofer in a well designed enclosure or an amplified universal enclosure will make a huge difference in the quality of your music. Everyone loves to show off "two 12's" if you have the room
3. One sub or two?
How loud do you want to go? Every time you double your amplifier power or double the number of subwoofers you have, you will produce an audible difference of 3dB (double the volume).
This choice depends on what kind of sound you are looking for and how much room you have in your car. A single sub in a sealed enclosure will give an outstanding sound quality bass perfect for rock and roll while a two subs in a vented enclosure will give you much boomier bass, perfect for hip-hop and rap.
4. Loaded or unloaded?
This is all about work and your time. Loaded enclosures are designed by experts to provide great output and don't require a lot of effort to install since everything is already in the enclosure.
If you have your heart set on specific subs, and they are not available in a loaded enclosure, buy an unloaded enclosure and mount those beauties yourself. MTX offers many great package combinations of recommended subs with matched amplifier and enclosures.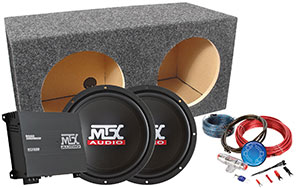 MTX Unloaded Subwoofer Package
5. Integrated amplifier or external amp?
Same as previous tip… get the matched amp already wired and mounted inside the enclosure, making installation easy. While they are easy to install, they do sacrifice a few features in the integration process needed to fit into the enclosure compared to the external models.
An external amp allows you to choose the power that is right for you. Power makes a difference, remember doubling your power gains you 3dB so 100-watts compared to 200-watts will be a big difference MTX offers solutions guaranteed to exceed your expectations, whichever you choose.
MTX Subwoofer Packages (same as MTX Subwoofer Systems) offer easy solutions for everything you need to get a system going rather than having to try and choose everything yourself.
You will find varying sub combos from:
All-in-one units to separate, premium subwoofer, amp and enclosure components,
Value packages to advanced technologically kits,
Small, large and custom fit
Know that whatever the choice, MTX will exceed your expectations.