Car Subwoofer Installation and Mounting
If you are not comfortable installing your subwoofers yourself, MTX recommends they be installed by an Authorized MTX retailer or car audio specialist. Be sure to verify all connections prior to system turn on.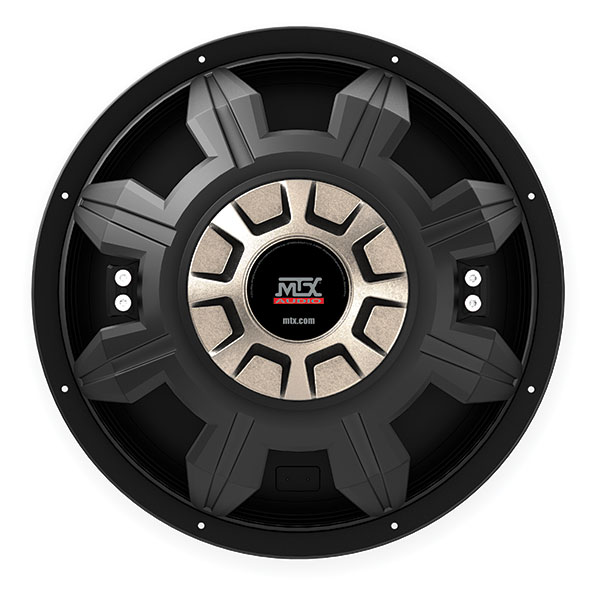 Example 55 Series Dual Voice Coil Car Subwoofer
Unbox the subwoofer(s) from the product carton(s).
A subwoofer needs to be installed in an enclosure to function properly. If you do not have an existing enclosure you will need to buy or make one before proceeding.


Generally, subwoofers are mounted in one of three locations:
Vehicle trunk/cargo area

Use correctly sized enclosure.
Under/behind seat

Use MTX ThunderForm custom molded enclosure if available or custom enclosure.
Custom

Use MTX ThunderForm custom molded enclosure if available or custom enclosure.


Connect speaker wire to the voice coil terminals on the subwoofe(s). Ensure your subwoofer wiring is properly connected to result in the proper system impedance and phase to match your amplifier. Then connect to the terminal cup on the inside of the enclosure.


Attach subwoofer(s) to the enclosure using screws provided in the carton.


Connect the enclosure to the amplifier using speaker wire.
If you do not have speaker wire, it is available for purchase on MTX.com
Tune the amplifier settings for the new subs.
Start the tuning process with the settings all the way down. The first setting to be adjusted is the gain. After the gain setting is the filter setting and crossover setting. Last will be the bass boost and/or subsonic filters if available.
Video: Amplifier Gain Setting


Turn the volume down before turning power on to the audio system and/or be ready to adjust volume down on power up. Check for reasonable levels to confirm proper gain settings. Readjust if necessary.
Enjoy your new MTX subwoofers!
Related Articles